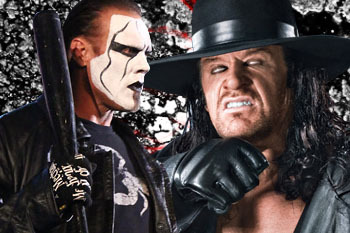 I recently got into a debate with a guy on youtube on who was the greater wrestler between Undertaker and Sting. He said Undertaker, and I said Sting. This is my response to him. What do you guys think?
Bear with me, this will be long... but it contains some good information. Before I start, I want to say that I do not think you are wrong in your opinions or that I am "more" correct than you in my opinion. We just have a difference of opinion. I couldn't exactly explain myself fully because Youtube doesn't let you type that much lol. Undertaker or Sting. I say Sting, and you say Undertaker. I base my decision on the following criteria

1. Ability
2. Gimmick
3. Who did they put over?
4. Feuds
5. Storylines
6. Mic Skills
7. How did said wrestler impact his company?
8. The X Factor - A special attribute or significance about the wrestler that puts them over the top

While I respect both wrestlers as two of the all-time greats... I consider Sting the better all-around wrestler. Here's my argument as to why. The Undertakers biggest pitfall is that he is a one trick pony. Now, don't get me wrong The Undertaker is beyond the shadow of a doubt one of the all-time greats. Let's be real though, and examine that he does have many flaws.

1) Undertaker has NEVER been great on the mic. Undertakers gravelly voice, and cookie cutter "one size fits all promos" prevent him from standing out. Does anyone ever truly recall a great Undertaker promo? The answer is no. You're not going to get much beyond "This is my yard"... and "Rest in Peace"... or "One by one they've came and one by one I've put them down".

2) The Undertaker is not an amazing wrestler. He's not going to wow you with any fancy moves. He's just a very agile big man. We can talk all day about how HBK/Taker matches are the greatest Mania fights ever... but that's not because of the Undertaker. That's because HBK can make any man on Earth look like a million bucks. HBK did for Taker's legacy what he also did for Razor Ramons career at WM10... and that's make a bigger guy look like a million bucks. HBK did the same for Stone Cold and Bret Hart at Wrestlemania. Taker also had a fairly solid match against HHH this past year, but that's because it was a no DQ. Think about it... how many legendary Mania matches does anyone remember Taker for before HBK? MAYBE the 1st Kane match at WM14??? and that's a big maybe. The Undertaker has gotten by on his theatrics for at least a decade now. He isn't the wrestler he was in the 90s. Also, how many people has Undertaker really put over? I can't really think of anyone who wasn't already over. You might make an argument for Brock Lesnar, but by the time they feuded Lesnar had already defeated The Rock and Hulk Hogan CLEANLY. That's because Vince McMahon has fed EVERYONE to the Undertaker. He spends 99% of each year injured now anyways. He only wrestles once a year and he is 6 years younger than Sting.

3) This is my biggest schtick with him. The Undertaker is all gimmick. Everything about him is a gimmick. He's the most successful gimmick wrestler ever. The Undertaker has gotten by on his theatrics for a decade now. If you took away the Undertaker gimmick, he would just be another big man (which is exactly what he was in WCW before he went to the WWF in 1990). He was just in the right place at the right time, and got saddled with the greatest gimmick in wrestling history. Without "The Undertaker" gimmick, Mark Calaway would've just been another Crush or Adam Bomb flash in the pan big man. He was a low mid-carder in WCW. Look at when he tried to change his gimmick from the "Deadman" to the "Biker" gimmick. It was widely panned, and he eventually went back to the "Deadman" gimmick but by the time he did the damage had already been done to his character. He was no longer as believable as he once was. The "Biker" gimmick really killed his aura... and he's never really got it back all the way. He has the look, but the mystique is gone. I think I've made a very strong case thus far. The Undertaker character is the greatest one trick pony of a gimmick ever. Even all his memorable matches are gimmick matches. Hell in a Cell, Casket, Buried Alive etc. He needs all the theatrics, smoke and mirror entrances, and gimmick matches because unless he's wrestling HBK... the majority of his basic singles matches are boring. Anyone can "no sell" another wrestlers moves... and that is why any other big man could've very well have been chosen to be "The Undertaker". His act never really changes, but no one cares. He's like a classic rock band that just plays the same routine every concert but will always sell out the arena. He's even spawned spin-off characters like The fake Undertaker, Kane, The fake Kane, Paul Bearer, and even the short lived character Mordecai (who was supposed to be the "Undertaker" of Light... instead of darkness). The Undertaker was also the precursor that led to future successful deranged gimmicks like Mankind, TNA's Abyss, and The Brood. I'm not taking anything away from The Undertakers accomplishments, but Mark Calaway would likely have never had the career he had if the "Undertaker" gimmick hadn't taken off the way it did. Any number of big men could've played "The Undertaker" gimmick and had the same result. The fake Undertaker proved it, as Brian Lee pulled off playing the Undertaker to the T. He had the look, a stunning resemblance, the moves down, and everything. He actually had most people fooled initially. He was just 2 inches too short, and you could've fixed that by thickening the bottom of his boots... but they left it that way to help tell the difference. Nash, Crush, Adam Bomb, Brian Lee could've been given the Undertaker gimmick instead of Mark Callous and the result would've been the same. When Crush was in WCW as Brian Adams in Kronik, he actually looked like he could pull off an Undertaker style gimmick.

On the other hand, no one else could've pulled off Stings character.

1) Sting is one of the top mic workers ever along with The Rock, Ric Flair, and Rowdy Roddy Piper as far as electrifying the crowd. The only person who can get a crowd more juiced than Sting using only a microphone is The Rock. I'll hook you up with several Sting promos if you don't believe me. People sometimes forget Stings mic skills because WCW's hey day is 10 years gone now, and because not as many people watch TNA. Only The Rock has more NATURAL born charisma than Sting.

2) Sting isn't afraid to put people over. Sting in WCW put over rising singles stars Booker T and Scott Steiner, and as a result made them legitimate main eventers... and even put over Vampiro. In his nearly 6 years in TNA, he has worked his butt off to put over AJ Styles, Christopher Daniels, Abyss, Christian, and Samoa Joe.

3) Unlike The Undertakers reinvention as the "biker", Stings reinvention as the "Crow" was the most successful reinvention in WRESTLING HISTORY and is still talked about constantly to this day. Sting has reinvented himself SUCCESSFULLY, not once but TWICE. To reinvent yourself this late in your career successfully is incredible. "Joker" Sting became along with CM Punk the most talked about story in wrestling in 2011. It was a hit for TNA, and a much needed one at that. Sting's ability to reinvent himself is amazing, and a true testament to Sting's understanding of the business and the fans.

4) Sting has held legendary feuds and battles with a who's who of hall of famers and legends including Hulk Hogan, Ric Flair, The Four Horsemen, Lex Luger, Rick Rude, Randy Savage, Goldberg, Bret "Hitman" Hart, The Great Muta, The Steiner Bros, Dusty Rhodes, Scott Hall and Kevin Nash, Rowdy Roddy Piper, Kurt Angle, Rob Van Dam, Jeff Hardy, The Road Warriors... I could go on but do I need to? Stings classics with Ric Flair at the Clash of the Champions really put WCW on the map. Stings feud with Hulk Hogan culminated in Sting SHATTERING PPV BUY RECORDS at Starrcade 97.

5) Sting is arguably the greatest all-around pro wrestler of all-time, and never had to step in a WWE Ring. Sting NEVER had the million dollar production, publicity, promotion, and marketing that Undertaker had with the WWE.Sting has done so much more than the Undertaker, with so much less. The thing is, Sting would've still been just as big of a legend without his "Crow" gimmick. 3 out of the record 4 times that Sting won PWI's Most Popular Wrestler award was BEFORE THE CROW GIMMICK. Sting was winning the most popular wrestler award with a 1/3 of the audience that Hulk Hogan had.

6) Sting was a part of the nWo Wolfpac... which was the most popular wrestling faction of all-time. At the height of WCW in 1998 the nWo Wolfpac was the most popular faction ever in terms of popularity (Sting was the most popular wrestler in the world in 1997 during the biggest time in wrestling history in terms of ratings as evidenced by him winning a record 4th PWI Most Popular Wrestler award). All anyone talked about was how awesome the Wolfpac was back then. They were like rock stars, and yes they were more popular than DX at the time... they just weren't around as long because WCW had to figure out how to end the nWo angle all together. Also, Sting was a part of the most legendary faction in TNA Wrestling, The Main Event Mafia.

7) Sting is one of the 1st wrestlers to have 2 different finishing maneuvers. Sting would beat you with a Scorpion Death Drop or the Scorpion Deathlock (Sharpshooter). Sting and Ronnie Garvin were the first two wrestlers to use the move prolifically in North America BEFORE BRET HART as it was originally called the Scorpion Deathlock which is derived from its original Japanese name. Sharpshooter was coined by Bret Hart later on, so despite what some think Sting popularized the move in N.America before Bret Hart did.

I could go on, but I think I've made a pretty strong case for Sting being the better wrestler.