by Brian Phelps
NEWS:
Chris Sabin wins the TNA World Title from Bully Ray at Destination X.
The Irish Whip:
Congratulations to Chris Sabin. He certainly is deserving, and I for one never thought he would become a World Champion. I knew he had the wrestling skills, but he's a fair mic worker and very small. I'm amazed for him. This was something new and different. For all the naysayers that say that TNA only puts over old guys after putting the world title on Austin Aries, Bobby Roode, James Storm, and Chris Sabin over the last 2 years, you're delusional and obviously don't watch the product.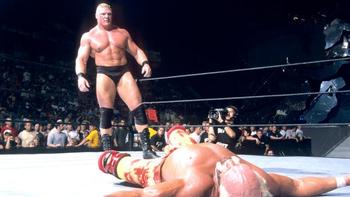 NEWS:
Former WCW Employee and Wrestlezone writer Mark Madden says Hogan never passed the torch.
The Irish Whip:
Sorry Mark, but you're wrong. Hogan passed the torch to The Ultimate Warrior in a title vs title match at Wrestlemania 6. Hogan shattered ppv records as he passed the torch to Sting at Starrcade 97 at the pinnacle of the WCW/nWo war. Hogan passed the torch and the WCW World Title to Goldberg in front of 40,000 fans in the biggest WCW Nitro main event of all-time. Hogan passed the torch to The Rock at Wrestlemania 18. Hogan passed the torch to Brock Lesnar in arguably the biggest Smackdown main event of all-time. The idea that Hogan never passed the torch is one of the biggest lies and misconceptions in the wrestling industry. You could say he "rarely" passed the torch, but to say he never even tried is simply just not true.
NEWS:
TNA releases Tara.
The Irish Whip:
This is a sad day for TNA. TNA took former WWE diva Victoria's career to an all-time high as TNA knockout Tara. They allowed her to be herself, and let her really work. Now released, where does she go from here? WWE is financially wise, but you risk ruining your legacy and suffering the "Gail Kim Effect". The "Gail Kim Effect" is a term I coined to describe a diva who leaves WWE to go to TNA and becomes a bigger star in TNA, but when they try to return to WWE with a higher stock thinking they could be the biggest star on the highest stage the WWE dupes them and makes them a jobber or hardly uses them at all. The Gail Kim Effect typically leads to resentful feelings towards WWE. Interesting decision for Tara because the WWE will have no interest in making her a bigger star. More than likely WWE would just have her go back to being the joke of the divas division.